GroZyme Micronutrient Spray
GroZyme is a crop yield enhancer that is produced through a series of organic processes in large covered, temperature controlled, stainless steel vessels referred to as "bioreactors". This process uses natural, non-genetically modified microbes, native to fertile soils to create the fermentation product. At the end of the process, the complex is reduced to a stabilized inanimate nature, allowed to settle and then aged for up to one year.
To Order Grozyme
or request more information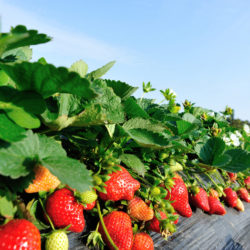 Although this is not a new product, recent testing in other parts of the country on other crops including lettuce, broccoli, strawberries and potatoes have found GroZyme to be very effective and with very significant increased crop yield results on strawberries, broccoli and potatoes. Please refer to the tabs above for specific information and testing on these crops.
Ease of use and application is very important when considering an additional product of this nature. GroZyme can be introduced though use of drip tape, in furrow or through normal watering systems assuring that it reaches the root structure of the plants.
A good foundation of good standard grower fertility program coupled with the application of GroZyme® will help to achieve maximum potential gains for your strawberry production efforts now and in the future.
Please call for pricing and ordering.